Shelby Township's most trusted concrete contractors for over 30 years.
Improving hundreds of homes and outdoor living spaces every year at

affordable prices.
Exposed
Aggregate
We specialize in exposed aggregate patios, driveways and more.
Stamped
Concrete
We specialize in stamped concrete patios, driveways and more.
Concrete
Driveways
We specialize in concrete driveway installation and replacement.
3D Patios
Designs
We are now offering realistic 3D patio designs to all of our customers.
If You're Looking For The Right Concrete Conractor, Look No Further.
After over 30 years of professional concrete installation, Biondo Cement has established a reputation as Macomb County's top concrete contractor. We specialize in decorative concrete patios, walkways, and driveways that will enhance the beauty and functionality of your home. We have a passion for bringing your property to life. No other Michigan cement contractors will deliver the quality and attention to detail that we do. With thousands of Macomb County concrete installations under our belt, we have the know-how and experience to make your project a total success! Please go and check out our fantastic Google reviews and see what our customers have to say.
We perform all kinds of concrete installations, such as driveway replacements. We will tear out your old driveway and replace it with brand new, high-strength seven bag mix concrete. We reinforce the concrete with 3/8″ steel rods throughout the entire project to ensure that your new Macomb County Driveway Installation is durable as well as beautiful. Watch our Stamped Concrete Process video and learn more about how we pour our concrete.
Don't trust your new concrete driveway to an amateur. Trust Shelby Township's best concrete contractors, Biondo Cement, and we will ensure that your project gets done right. Our experienced team of concrete craftsmen will handle the work, from start to finish, in just 3-5 days, so your home life won't be interrupted, and you can begin using your beautiful new concrete driveway, concrete walkway, or concrete patio without delay.
Drop by and check out our New Design Showroom!
Biondo Cement has invested a great deal of time and energy to build our beautiful Concrete Showroom in Shelby Township, Michigan. A huge selection of stamps, stains, and decorative accents awaits you! Stop by anytime and come see the possibilities for your next big concrete project. Or give us a call at (586) 566-2600 to schedule an appointment.
Michigan Concrete Contractors
 3 Reasons to Trust Biondo Cement with Your Concrete
1. 30+ years of experience, unmatched skill, and a master at their craft.
Biondo Cement is well known in Macomb County for our exceptional skill installing stamped concrete and exposed aggregate. Our crews are hand-picked, extensively trained artisans with a keen eye for detail. We make sure every step in the process is completed accurately and to your exact specifications. It is for this reason that the Biondo name has become synonymous with luxury decorative concrete in southeast Michigan. Top quality materials, labor, and an exquisite finished product is our promise to you.
2. We offers endless color and design options for decorative concrete.
Biondo Cement's concrete showroom hosts an incredible array of stamps, stains, decorative accents and more. Our showroom was built with the customer experience in mind; it's our goal to help you personalize every detail of your concrete creation so that you get something unique and precious to you. No two homes are exactly the same, so why should your patio be the same as your neighbor's? Come see us today at 14391 23 Mile Rd in Shelby Charter Township to explore your options with our design experts and get started on the road to a beautiful home today!
3. We take time and care in every step of our process ensuring a comfortable and unique experience.
Over many years and thousands of concrete installations, Biondo Cement has refined the customer experience to a remarkable degree, helping you make informed decisions every step of the way. At the time of your appointment, our estimator will arrive at your home to take measurements, photographs, and discuss options and designs with you. You will then skype 1-on-1 with our expert designer, who will bring your preliminary design to life in full 3d using an actual photograph of your home, so you can see exactly what the finished product will look like and make changes. Then, come into our concrete showroom to discuss options with our detail specialist, who will guide you through our wide variety of stamps, stains, and decorative accents. Interested in a retaining wall, or maybe an ingrained pattern in the border? Perhaps you want sparkle in your cement mix, or even inset lights for night time use? Biondo has you covered. Once the details of the job are set, our concrete crews will come out to your home and begin work, and within 3-5 days, you will have a beautiful new concrete installation ready for use for years to come!
3D Patio Designs by Biondo Cement
Biondo Cement is dedicated to providing an outstanding experience all around. We are proud to offer 3D patio designs on all of our estimates to help our clients visualize their patio before its even built. 
Commercial Concrete Contractors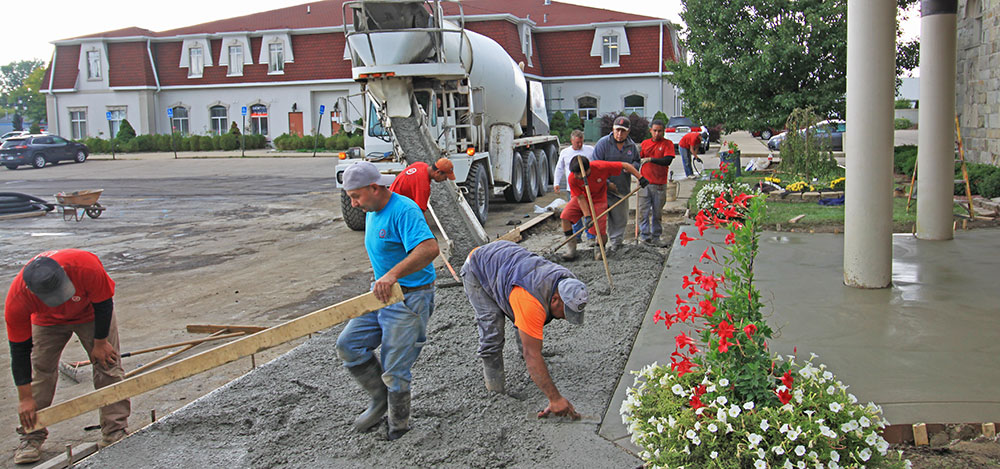 Commercial Concrete Parking Lots – Our Concrete Installation Process.
1. Tear out the existing parking area and prepare the area to pour cement.
Our crews will arrive on the first day of the job with all the necessary equipment to tear out and remove the old driveway. Biondo takes pride in cleanliness and will make sure that debris is promptly cleaned from the job site. Next, forms are set in place to define the area in which the concrete will be poured. We ask that homeowners be present on the first day of the job to approve the forms, so we can ensure that you get exactly the design you want. We then lay down 21AA crushed concrete and carefully compact it to ensure an even footing. After that, steel rod reinforcements are layed throughout the entire project. This will add additional structural integrity to the finished product.
2. Pour the concrete and finish whether broom finish or smooth.
Once the forms are all set, we're ready to pour! Concrete trucks arrive, and the base color you choose will be added into the cement mix and thoroughly incorporated. Then the pouring begins. As the cement is poured, our skilled installers will use a screed to carefully smooth the surface of the concrete. It's essential to create a perfectly smooth working surface to lay the stamps in later.
3. Allow the cement to cure overnight then return to saw-cut control joints.
After the stamping is done, the cement is left to harden overnight. We will then return the next day to powerwash the surface of the cement, removing any excess releaser. Then, we use specialized diamond-cut sawblades to cut expansion joints into the driveway. Wide fluctuations in temperature, common to southeast Michigan, cause cement to expand and contract, which can result in cracking or spalling. By cutting expansion joints, you give the concrete flexibility to allow movement and prevent damage. At this point, your driveway is complete! You are now the proud owner of one of the highest quality concrete driveways in Michigan. Don't hesitate – call us today at
14391 23 Mile Road, Shelby Township, MI 48315