Let Biondo Cement Build You A Beautifully Designed Stamped Concrete Patio
Shelby Township's #1 most trusted stamped concrete patio contractor with

competitive pricing.
Exposed
Aggregate
We specialize in exposed aggregate patios, driveways and more.
Stamped
Concrete
We specialize in stamped concrete patios, driveways and more.
Concrete
Driveways
We specialize in concrete driveway installation and replacement.
3D Patios
Designs
We are now offering realistic 3D patio designs to all of our customers.
Macomb County Stamped Concrete Patio Specialists
Although we are experts in many different kinds of cement, one thing Biondo Cement is known for among concrete contractors and customers alike is our high quality stamped concrete patio installation. We have over 30 years of experience installing thousands of stamped concrete patios across the entire Southeast Michigan area. Though our work is often imitated, it is never matched! Our process has been honed carefully to minimize waste, save time for our customers, and produce a peerless concrete creation that is both stunning and durable.
Watch How Biondo Cement Installs Stamped Concrete
Our talented and professional concrete craftsman provide Michigans most exceptional concrete work. At Biondo, we pride ourselves on high quality workmanship to deliver outstanding concrete patios, driveways, walkways, and more. Please have a look at this video showcasing the skill and teamwork of our crews!
3D Patio Designs by Biondo Cement
Biondo Cement is dedicated to providing an outstanding experience all around. We are proud to offer 3D patio designs on all of our estimates to help our clients visualize their patio before its even built. 
The Process of Building a Stamped Concrete Patio
Our sales expert will come visit your home in person, taking photos and diagrams of the installation area, after which you will get a chance to video chat directly with our in-house designer, who will use the photos to produce a beautiful 3d rendering of your desired patio design, making adjustments to the shape, texture, and color as necessary to suit your home.
Once you settle on a design and schedule an installation date, we can get to work on pouring your patio. We begin by laying out specially designed forms to outline the curvature of your design.
We then lay down & compact crushed concrete to serve as a base for the stamped concrete patio. After laying down steel rod reinforcements to add further structure & support, we pour in a high-strength 6½ bag mix concrete, with your chosen colors pre-mixed in the truck to add a rich tone.
When the proper amount of time has passed, the concrete is then carefully leveled and smoothed by our installation experts. A releaser is applied to give the final product a secondary color tone.
Finally, we can begin carefully stamping the surface of the patio. After the stamping is completed, we will power wash your patio. Once 24 hours have passed so that the cement can set, we will apply a sealer to the concrete surface, giving it a professional finished look.
Finally, your dream patio is complete! Friends and family will marvel at the luxurious look of your new concrete installation. The wait is over – call us at (586)566-2600 to schedule a FREE estimate today! Don't forget to add us on Facebook – and then head over to Google to see what our satisfied customers had to say!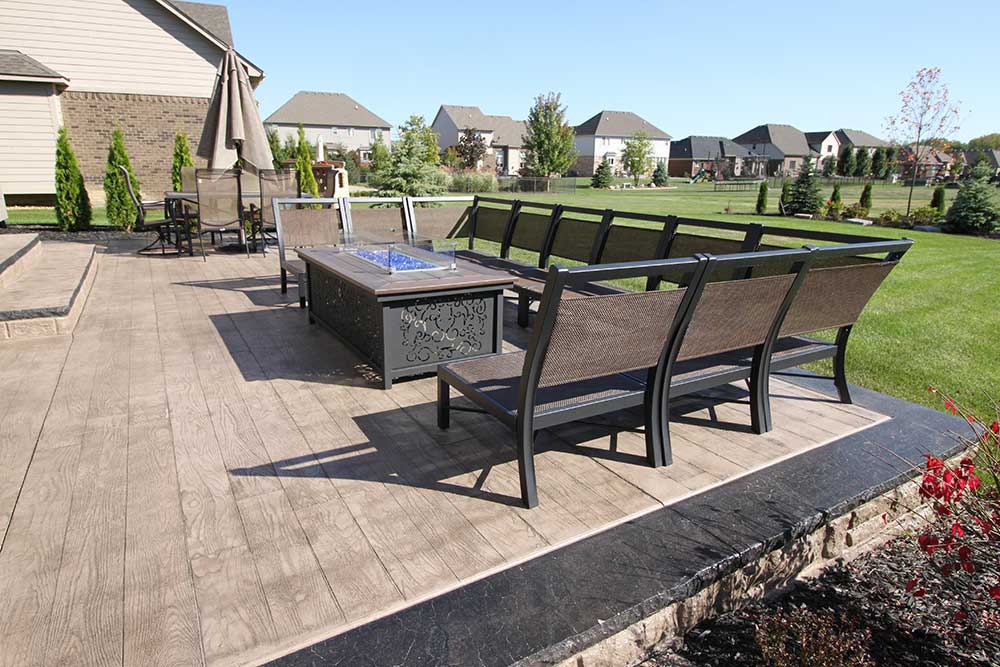 14391 23 Mile Road, Shelby Township, MI 48315