WE OFFER FREE IN-HOME ESTIMATES!
CLICK HERE

TO LEARN MORE
STAMPED CONCRETE PATIOS AND DRIVEWAY SERVICES CLINTON TOWNSHIP, MICHIGAN
Stamped Concrete is becoming increasingly more popular and is the concrete of choice for most Clinton Township MI homeowners.  Because Biondo Cement, Inc. specializes in Clinton Township poured concrete, we're able to offer a wide variety of colors, patterns, finishes and design options to our Clinton Township, MI customers.
Our team of Clinton Township stamped concrete contractors have decades of experience and use "state-of-the-art" tools and equipment when installing the product. Our expertise insures your project will be done both professionally and in a timely manner. We are fully licensed and insured and back up our commitment to quality and complete customer satisfaction with a 1½ Year Warranty on workmanship and materials.
CLINTON TOWNSHIP, MI STAMPED CONCRETE PATIOS
All stamped patios must be inspected by a Building Inspector Official and must be approved by the Building Department. Stamped concrete in Clinton Township, MI is very affordable, and the choice for many homeowners looking to stretch their dollars.
STAMPED CONCRETE DRIVEWAYS CLINTON TOWNSHIP, MI
If you're thinking about replacing your driveway Biondo Cement is the best choice for quality, workmanship, and affordable driveways. Biondo Cement has excellent rating with the Better Business Bureau and we are licensed and insured with the State of Michigan.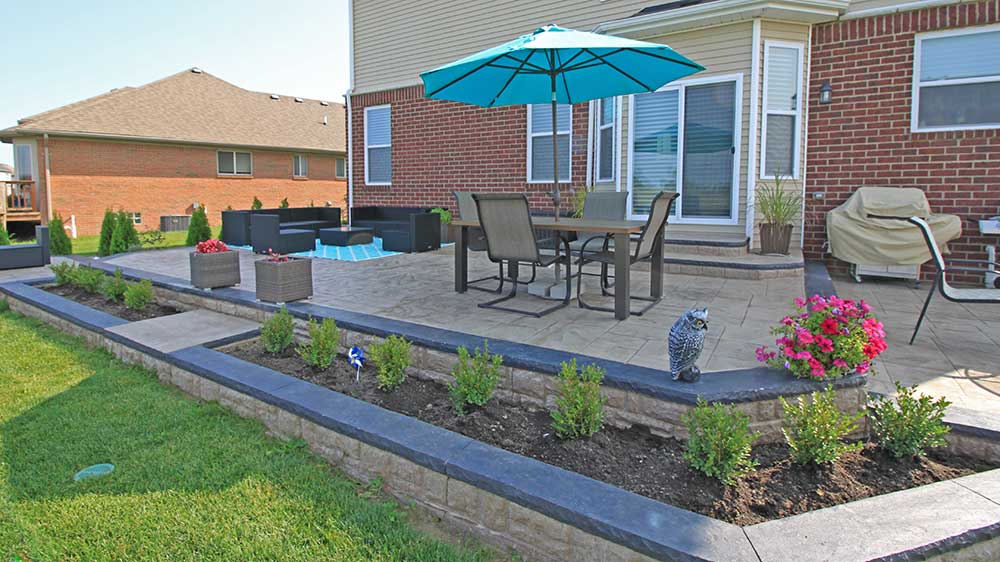 CLINTON TOWNSHIP EXPOSED AGGREGATE
To reveal the beauty of exposed aggregate, first pea stone is used in the concrete mix rather than the limestone aggregate. Next, after pouring and finishing the cement, a retarder is applied to the surface to prevent the top layer from drying. Biondo Cement has been hard at work to provide the industry's most unique techniques when it comes to exposed aggregate concrete. Due to the boom in popularity of exposed aggregate patios and driveways, we are now providing homeowners with stunning designs and outstanding quality finishes.
We have developed new methods of incorporating both stamped concrete and exposed aggregate in patios by exposing the pea stone on the inside of the patio, leaving the border and facing with a natural stone and stone texture finish. It is a simple yet stunning look giving homeowners the best of both worlds when it comes to decorative concrete. Check out examples of this finish in the Exposed Gallery.
STAMPED CONCRETE PATIO DESIGNS CLINTON TOWNSHIP, MICHIGAN
When a homeowner thinks about a shape for a patio, they should take into consideration where their patio furniture is going to be placed. Once that is established, we can start on your patio design. We will make sure that not only does your patio have an elegant look, all your space will be utilized comfortably.
POOL DECKS CLINTON TOWNSHIP, MICHIGAN
There are many different different types of concrete pool decks that homeowners can choose from. You will find that a poured concrete pool deck is a great place to relax in the sun when you are not in the pool.
CUSTOM STAMPED CONCRETE DESIGNS
Decorative concrete is just one version of many different ways to describe "stamped concrete." Biondo Cement has created a video that shows customers all the details involved to create a custom decorative stamped concrete job, simply click here to view our concrete videos.
Homeowners in Clinton Township, MI are discovering the many great advantages to decorative stamped concrete. Biondo Cement Co. is a Michigan based concrete contractor, fully licensed and insured, a member of the Better Business Bureau and is your local decorative stamped concrete contractor located in Clinton Township, MI.   
For a free estimate, contact us here or call us today at (586) 566-2600!
We take great pride in the personal commitment we make to all of our customers from start to finish. Let Biondo Cement create something spectacular for you!
14391 23 Mile Road, Shelby Township, MI 48315
© 2020 Biondo Cement All Rights Reserved.