WE OFFER FREE IN-HOME ESTIMATES!
CLICK HERE

TO LEARN MORE
Stamped Concrete Contractors Rochester | Beautifully Designed Patios and Driveways
Stamped Concrete has become the dominant choice for patios and driveways amongst homeowners in Rochester, Michigan.  Here at Biondo Cement we have been designing and building some of the most beautiful and timeless decorative concrete patios and driveways for many years. We work diligently and care for every detail with our stamped concrete to ensure the best possible results. With many years of experience matched with outstanding leadership and teams of skilled craftsmen, Biondo Cement has built an outstanding reputation for improving outdoor living in Southeast Michigan! We encourage you to check out our amazing customers testimonials by clicking here.
By choosing Biondo, you're choosing a company that will stand with you at your job site every step of the way. We pay close attention to every detail of the job so that your vision comes to life exactly the way you want it to. Furthermore, our Concrete Design Gallery located in Shelby Township offers customers a unique experience in designing a stamped concrete patio you'll love! We offer a variety of patterns and colors along side 3D renderings of what your stamped concrete patio will look like right to your home! 
We are fully licensed and insured and back up our commitment to quality and complete customer satisfaction with a 1½ Year Warranty on workmanship and materials. Get your stamped concrete project started today with a free in-home consultation. Or you can check out our beautiful stamped concrete patios and driveways in the photo gallery.
Masterfully crafted and beautifully designed stamped concrete patios. Perfect for homes in Rochester. 
All stamped patios must be inspected by a Building Inspector Official and must be approved by the Building Department. Stamped concrete in Rochester, MI is very affordable, and the choice of many homeowners looking to stretch their dollars.
When a homeowner thinks about a shape for a patio, they should take into consideration where their patio furniture is going to be placed. Once that is established we can start on your patio design. We will make sure that not only does your patio have an elegant look, all your space will be utilized comfortably.
There are many different different types of concrete pool decks that homeowners can choose from. You will find that a poured concrete pool deck is a great place to relax in the sun when you are not in the pool.
Decorative concrete is just one of many different ways to describe "stamped concrete". Biondo Cement has created a video that shows customers all the details involved to create a custom decorative stamped concrete job; simply click here to view our concrete videos.
Out with the old, in with the new. Replace your driveway with stamped concrete.
If you're thinking about replacing your driveway Biondo Cement is the best choice for quality, workmanship, and affordable driveways. Biondo Cement has excellent rating with the Better Business Bureau and we are licensed and insured with the State of Michigan. We reinforce every driveway with intelligently placed steel rebar; We also saw cut expansion joints with diamond blade saws so that expansions joints are clean and unobtrusive. We know every special technique to make sure that your driveway comes out clean, even, and perfect, and lasts for a long, long time!
Thinking about getting a little extravagant? Consider having your driveway replaced with stamped concrete or exposed aggregate! Give your home a beautiful, polished look with a decorative concrete driveway. We can even add sparkle to the exposed aggregate to make it shimmer in the sun – an unforgettable look that will have all your neighbors dying to know how! Exposed aggregate is also very strong and sturdy, staying strong in the extremes of Michigan weather. Don't get left out in the cold – Call Biondo to get the experts on your side.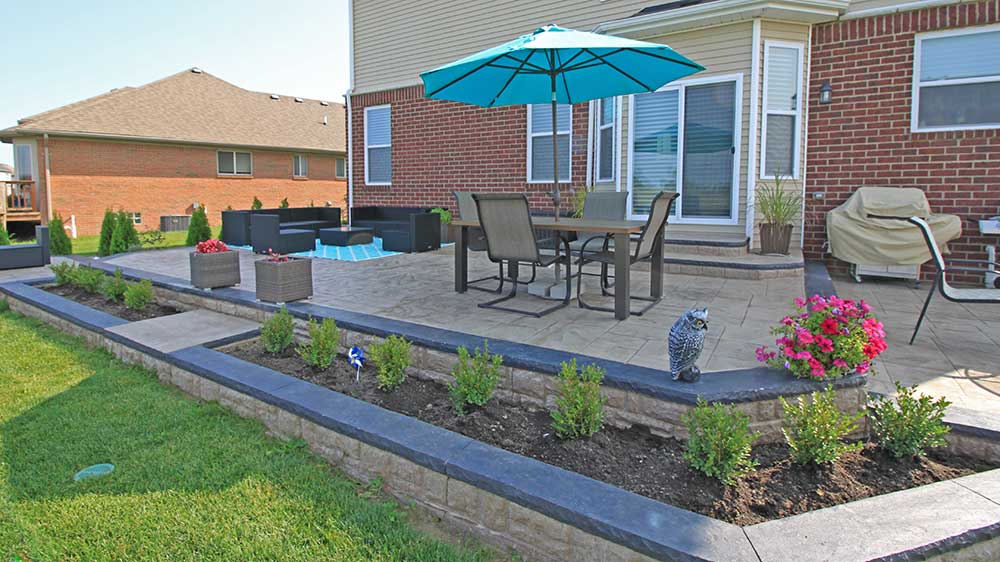 Stamped concrete not your thing? See if exposed aggregate is right for your home.
To reveal the beauty of exposed aggregate, first pea stone is used in the concrete mix rather than the limestone aggregate. Next, after pouring and finishing the cement, a retarder is applied to the surface to prevent the top layer from drying. Biondo Cement has been hard at work to provide the industry's most unique techniques when it comes to exposed aggregate concrete. Due to the boom in popularity of exposed aggregate patios and driveways, we are now providing homeowners with individualized designs and unique finishes to make a lasting impression.
We have developed new methods of incorporating both stamped concrete and exposed aggregate in patios by exposing the pea stone on the inside of the patio, leaving the border and facing with a natural stone and stone texture finish. It's a simple yet stunning look, giving homeowners the best of both worlds when it comes to decorative concrete. Check out examples of this finish in the Exposed Gallery.
Homeowners in Rochester, MI are discovering the tremendous advantages of decorative stamped concrete. Biondo Cement Co. is a Michigan based concrete contractor, fully licensed and insured, a member of the Better Business Bureau and is your local decorative stamped concrete contractor located in Shelby Township, MI.   
For a free estimate, contact us here or call us today at (586) 566-2600!
We take great pride in the personal commitment we make to all of our customers from start to finish. Let Biondo Cement create something spectacular for you!
14391 23 Mile Road, Shelby Township, MI 48315
© 2020 Biondo Cement All Rights Reserved.